How to Get the Most Out of a Global Social Impact Fellowship
February 12th, 2020 *12:00pm Noon EST*
The Global Social Impact Fellowship at Lehigh University is an integrated experiential learning, original research, and entrepreneurial engagement program that brings together undergraduate and graduate students, faculty, and external partners to collaborate on multi-year sustainable development ventures in low- and middle-income countries. Current ventures are striving to address challenges related to maternal mortality, sickle cell disease, malnutrition and stunting, plastics pollution, mental health, outdoor air quality, etc. in Sierra Leone, Philippines, and Kazakhstan.
Participants will gain practical insights to strengthen their own unique impact-focused programs. This seminar will discuss the following:
-Academic model and logistics
-Project and fieldwork funding model
-Practical partnerships
-Faculty engagement mechanisms that transform two courses into a dynamic and productive entrepreneurial ecosystem
Panelist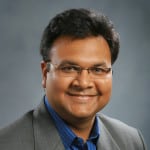 Dr. Khanjan Mehta is the inaugural Vice Provost for Creative Inquiry and Director of the Mountaintop Initiative at Lehigh University. Mehta champions the creation of learning environments and ecosystems where students, faculty, and external partners come together to increase their capacities for independent inquiry, take intellectual risks and learn from failure, recognize problems and opportunities, and effect constructive and sustainable change. Previously, Mehta was Founding Director of the Humanitarian Engineering and Social Entrepreneurship (HESE) Program at Penn State University. Mehta serves as an Associate Editor of the IEEE Technology and Society Magazine and Contributing Editor for the Engineering 4 Change portal. His latest book, Solving Problems that Matter (and Getting Paid for it), takes a deep dive into STEM careers in social innovation and global sustainable development. He is also a former Contributing Editor for Engineering for Change and has presented an Engineering for Change webinar on "Strengthening Humanitarian Ventures Through Concurrent Research Initiatives" in the past.