Searches for software designed to help show promotions for thousands of pounds of free bets and bonuses
Gambling addicts who search Google for help to quit are being bombarded by adverts for online casinos.
The search company's algorithm is serving up ads promoting thousands of pounds of bonuses offered by betting websites, with many even boasting of being able to circumvent software designed to protect problem gamblers.
Google searches for Gamstop, a UK programme allowing people to ban themselves from online gambling, send users to lists of casinos that are based offshore and are not part of the self-exclusion service.
The adverts potentially lure vulnerable users into placing more bets at the moment they are seeking to stop gambling for good.
Some of the adverts were still displayed even after The Independent highlighted the issue to Google and the tech company said any offending accounts had been suspended from its AdWords platform.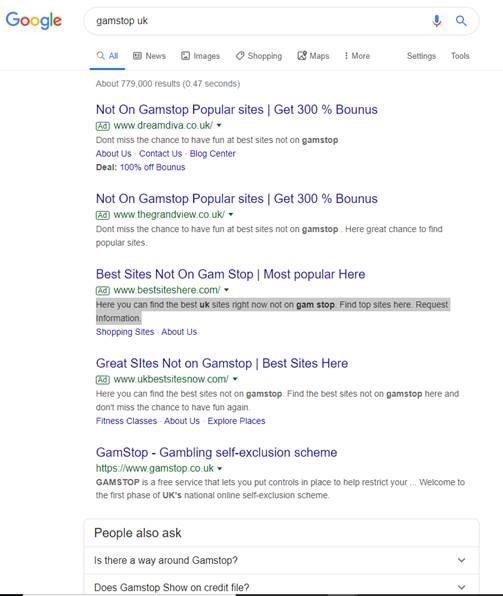 On Thursday, the top result from a Google search for "Gamstop UK" was an advert stating: "Not on Gamstop Popular sites – Get 300 per cent Bonus."
All of the top four links, which advertisers pay Google for, pointed to lists of casinos allowing customers to work around the self-exclusion service.
Clicking through leads to lists of dozens of offers presenting new customers with hundreds free spins on online slot machines, roulette and other potentially addictive games at virtual casinos based in Cyprus and the Caribbean island of Curacao, among other locations.
The link to the actual Gamstop website was relegated to Google's free search results which start from position five on the page. Searches for a number of other related terms threw up similar results.
Carolyn Harris, a Labour MP and chair of a cross-party group on gambling-related harm, said the adverts were immoral.
Register with your social account or click here to log inI would like to receive morning headlinesMonday – Friday plus breaking news alerts by email
"I don't necessarily blame Google," said Ms Harris. "In a way they are victims of the ingenuity of companies who are capable of bypassing any measures that are put in place.
"I have serious reservations about the entire self-exclusion system and the gambling industry's willingness to tackle the problem."
The all-party parliamentary group is set to reconvene next week and will conduct an inquiry into the issue of online adverts that undermine efforts to tackle problem gambling.
Gamstop chief executive Fiona Palmer said she was "very concerned" about the impact the websites may have on people who have self-excluded.
"When people search for information about self-excluding from online gambling, they should only see results relating to Gamstop and organisations providing support for problem gambling," Ms Palmer said.
"Consequently, we are working with Google and other search engines to ensure that when people search for information about self-excluding from online gambling our website is prominently displayed and these websites are not included within the search results."
The Google adverts appear to be placed by third party companies, rather than online casinos themselves. Gambling companies pay referral fees to intermediaries who can find new customers that may turn into lucrative regular players.
This week, the extent to which gambling companies' multibillion-pound profits rely on problem gamblers was revealed in a report obtained The Guardian, which showed that one firm collected 83 per cent of its deposits from just 2 per cent of its customers.
A Google spokesperson said: "We support responsible gambling advertising and it's important to us that people see useful and relevant ads in this area.
"As such, we have strict policies around gambling ads, which we enforce rigorously. We have suspended the accounts in question."
The company says it uses a combination of humans and algorithms to vet adverts and enforce its rules.
But on Friday, after Google provided a statement, at least one gambling advert was still showing close to the top of search results for Gamstop
"Don't miss the chance to have fun again," the advert read. "Find the best sites not on Gamstop here."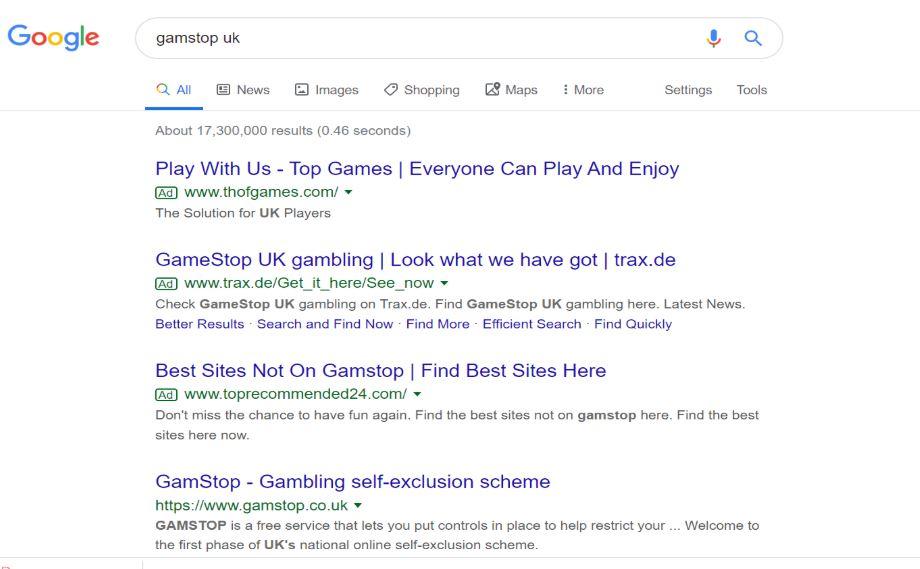 Gambling adverts have been inappropriately placed on Google searches before. In October, the Advertising Standards Authority (ASA) banned an ad for a casino app which targeted customers who googled "How to unsubscribe from all gambling".
Trade body the Betting and Gaming Council called on Google and other search engines to update their gambling blacklists to prevent similar problems emerging again in future.
Anyone who sees gambling adverts targeting search results for help with addiction is advised to contact industry regulator the Gambling Commission.